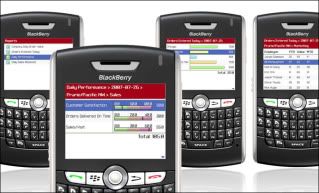 If we are talking about BlackBerry, we will discuss so many topics about that. Especially application that can make BlackBerry more interesting. Nowadays, a lot of software vendors are fighting to create third party application for BlackBerry.
Between so many third party applications that were launched, there are 10 interesting applications that can make your BlackBerry performance well. And you can download the application for free.

1. Viigo
Viigo is an application to read RSS or feed reader. Viigo help you to read news from your favorite RSS, save and bring it everywhere you go.
2. Vlingo
Although the brand new technology of BlackBerry has used speech recognition technology to get calling, but Vlingo can do more. Because with the same technology, Vlingo able to make the voice searching through web, opening calendar and even send text messages.
3. Google Mobile
With this application you can get all Google services easily on your BlackBerry, like Gmail, Google News, Google Maps and Picassa Photo.
4. BBNotePad
BBNotePad is a plain text editor application that may you to write document. BBNotePad has 3 types of font size that give you alternative when write and read the document. You can save it in .txt format, like notepad on PC.
5. GridMagic Community Edition This application is an application that launched by Simprit Free Software Community. GridMagic Community Edition may you to execute spread sheet and other functions like Microsoft Excel on Windows. You can save your file in .xls format.