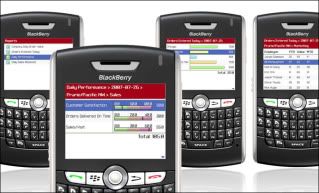 6. Opera Mini
Although BlackBerry has been built with browser, but it is necessary you download Opera Mini. Because Opera Mini is the most popular and good browser application. With Opera Mini, you can zoom in or zoom out the website page that you are visiting.
7. Mobipocket Reader
Mobipocket Reader is an e-book reader application. This application may you read all types of e-book easily, although in the Blackberry's screen that is too small. You also can create annotations when you are reading an e-book.
8. Iskoot
iSkoot is a skype client application. This application may you always keep in Skype. You can make call and receive a call from Skype with this application.
9. TwitterBerry
Nowadays, twitter is one of the popular social networking website around the world. Of course, you do not want lost your Twitter update because you are not in front of your PC or notebook. But you do not to worry, because Orangetame Software has launched TwitterBerry. This application is specific application that may you keep connecting with your friends and sending Tweets.
10. WebMessenger
Your Blackberry will get tasteless, if inside it there is not messenger application. WebMessenger is one of so many messenger applications that is good for Blackberry. Using WebMessenger, you can always connect with your friends inside the IM network.
There are 10 free and interesting Blackberry applications that you have to download to your Blackberry. But don't forget to make sure the application is necessary for you. Don't download and install the application that often in using. Because it can make your Blackberry performance not good.