The Thin and Long Power Notebook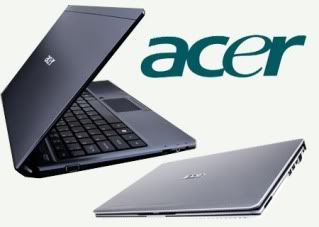 Acer found that consumer needs the solid function of notebook, without necessary to decrease the notebook quality. Therefore welcome the new era "true mobile computing", that is era when consumer have long endure battery function without have to bring the weight and bold notebook. Acer give the good solution with launched their brand new notebook in 8 June 2009, Acer Aspire Timeline.
Acer Aspire Timeline is the different laptop that heads for return the main function of notebook. This notebook is very thin and light in weight. Although so, this notebook can turn on till 8 hours. And it is thickness less of 1 inch (0,196 inch). Light in weight, just 1,6 kg on 13,3" model and 1,9 kg if you like to choose the 14" model.

The keyboard, that uses Glossy Fine Tip technology, has big and unimpeded buttons. Plus Multi Gesture Touchpad that you can use to navigation some different applications. It is also supported by ample storage with 500 GB HDD and 64 GB SSD.
This notebook is not use big and weight battery, but it had been redesigned so that the battery system becomes efficient when it was charging. This thin notebook fully equipped by Power Smart button that can increase the battery power through a specific arrangement, so decrease the power. Plus Power Smart Adapter that can thrift power till 60%.
This laptop uses Laminar Wall Jet technology that makes hot temperature on this laptop less till 5 degree compared with the other laptops. So many high and brand new technology powered this laptop, make Acer Aspire Timeline sold at USD $759.
Specifications :
- Intel Core 2 Duo Solo processor SU3500 (3 MB L2 cache, 1.40 GHz, 800 MHz, 5.5 W)
- Mobile Intel GS45 Express Chipset
- Intel Wireless WiFi Link 802.11/a/b/g/Draft-N
- Genuine Windows Vista Home Premium
- 2GB DDR3 memory
- 500 GB HDD
- 5 in 1 Media reader
- 8 hour battery life