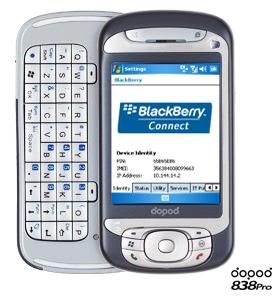 In a row with the technology and information progress, we are easier to keep the information and transaction with the people from the other country. We can talk and chat with other people from other country while we are sitting at home. And we do not need to write a letter and take it to mail office so that the letter can be taken to our family's home by the mail man.
Due to the progress of technology and information, now we can send a letter from our computer to our family in a few minutes, we usually called it electronic mail or e-mail. And at this time, we can send e-mail from our hand, exactly from our cell phone with push mail application.

One of the application that popular is BlacBerry Connect. Although it is called BlackBerry Connect, this application not only can work on BlackBerry. You can run this application for other cell phone that support for this. So you can enjoy an application like you have a BlacBerry.
The function of BlackBerry Connect is the user can send and receive e-mail easily with push e-mail service. You just can send and receive e-mail, don't think you also can run other services like on Yahoo! Messenger, BlackBerry Messenger or Google Talk. Because of this application only for push e-mail service like on BlackBerry.
BlackBerry Connect can be used on:
1. Nokia 9300, 9300i, 9500 and all E-series.
2. Sony Ericsson M600i, P990i, P1i, G700 and G900.
3. HTC TyTn II.
4. Dopod 838 Pro.
5. Motorola Q9.