The Best Performance Notebook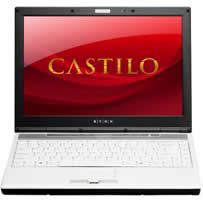 BYON make their motto to deliver their vision and missions to their consumers. Their motto is Breaking Limits. According to their motto, BYON always production the brand new innovations and try to breaking the limits of the computer technology. And this time, BYON come with new laptop from the Castilo clan, called BYON Castilo S8530 N/M P8400.
If we see this notebook's work performance, this notebook powered by Intel Core 2 Duo P8400 processor, 320 GB hard disk capacity, 2 GB memory and nVidia 9600M-GT 256MB DDR3 dedicated graphic chipset. All the spare parts make this notebook get 5,9 in Windows Experience Index. It is the high score for notebook.
This notebook support with 13.3" screen and 1,96 Kg weight, make the Castilo comfortable to bring everywhere. Plus HDMI port and touch button technology to sound volume arrangement, shortcut to the document, Bluetooth and wireless activation.
BYON Castilo S8530 N/M P8400 also had use display technology with LED backlight and slot-in CD mechanism, that make this notebook do not need tray to play the CD chip. This high technology made this notebook look thin.
Add your satisfied, there is Boost-Up Speed that used 2 GB Intel Turbo Memory. This notebook also support by ReadyBoost technology that make you may increase your memory. You just embed your flashdisk sharp to one of his USB port.
If you buy it, you will get wireless Microsoft mouse with BlueTrack technology and A4 size color printer. BYON Castilo S8530 N/M P8400 built with Microsoft Windows Vista Business.
Specification:
- Intel Core 2 Duo P8400 processor
- 320 GB hard disk capacity
- 2 GB memory
- nVidia 9600M-GT 256MB DDR3 dedicated graphic chipset
- 13.3" screen and 1,96 Kg weight
- Microsoft Windows Vista Business