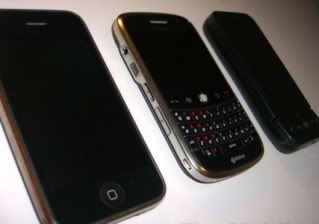 You may have heard about the company Constin GmbH before. This is a company based in Berlin are involved in the development and production of plastics in general. But not quite long ago since the name was a little Constin Hans becoming known as the company behind the design Communicator smartphones, at least in certain circles.
In the implementation of MWC, Constin introduce the latest design concept "NewCon (New Convertible)" this time. Simply put, this is the Touch Smartphone with full keyboard, and according to Hans Constin, the device produced in accordance with the latest patent NewCon keyboard offers the largest, most thin profile and a touch screen similar to the iPhone.

In 1995 Hans Constin filed patents for the design of the famous Comunicator Smartphone. He still holds patents throughout the world today. Now in the era of the iPhone touch-style smartphone, he led the smartphone design.
NewCon new patent applications (New Convertible) describes design as the iPhone smartphone with large touch screen with a flip and rotate designs directly, this smartphone as if like a mini-laptop with a full PC keyboard. A special feature includes all the keys that can be found on the larger keyboard. No missing buttons and everything can be found in the same place that one familiar with the larger keyboard.
"The device is entirely similar type of Mini PC and it's just easier to use," said Hans Constin. "Smartphone users to enter text often complained about the functionality and ergonomics of input options."
The devices with this type of design allow the user to always hold their PC and eliminate the need to touch on the keyboard to play the general. "This device is similar to the HTC Touch Pro 2 has a keyboard" Constin said, "but the concept of the sliding mechanism on the screen, allowing only half from the surface of the keyboard allows for the use. "Many users are frustrated with the touch of a keyboard will be happy to use the smartphone as a PC."