The Cheap and Colorfull Mini Notebook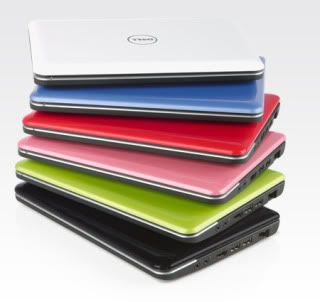 Dell is one of the notebook corporations that crowding the global notebook market. Dell is famous as notebook brand that give the alternative specification choice for you who want the different specification and design notebook. And of course for you who searching the low price notebook, you can search it in Dell notebooks.
The brand new and low price notebook that launched by Dell is Dell Inspiron Mini 10v. This is mini notebook with low price, just $299. You can start searching Dell Inspiron Mini 10v in the notebook market now.

From the specification, Dell Inspiron Mini 10v is similar with the other mini notebooks. But in the mini notebook category Dell Inspiron Mini 10v is cheaper than the others. One thing that make Dell Inspiron Mini 10v look different from the other mini notebook that offered in the global notebook market is his color. Dell offers several colors in this mini notebook. You can choose the colorfull one as you like.
Dell Inspiron Mini 10v support with Intel Atom N270 1.6 Ghz processor and 1 GB Random Acces Memory. This mini notebook has 120 GB hard disk for your saving media. In the display, Dell Inspiron Mini 10v use 10,1 inch diagonal widescreen with 1024 x 576 resolution from integrated graphic controller, called Intel Graphics Media Accelerator 950.
For the nirkabel connectivity, Dell Inspiron Mini 10v has Wi-Fi 802.11g. And Windows XP Home Edition SP3 for his operating system. Dell Inspiron Mini 10v also powered by 3 cell Li-ion battery.
Specification:
· Intel Atom N270 1.6 GHz Processor
· 1 GB Random Acces Memory
· 120 GB Hard Disk
· Windows XP Home Edition SP3
· 10.1" Widescreen
· Wi-Fi 802.11g