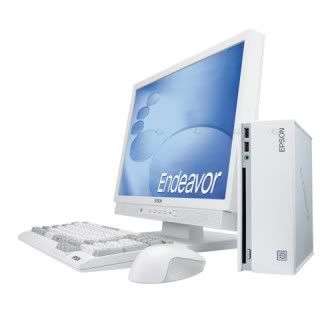 The mini size trend is attacking notebook and PC desktop now. Besides easy to bring it anywhere, also did not take much space on the table. Therefore people want to enjoy this movement of technology with high mobility.
Epson – one of the big technology companies – launched desktop PC Endeavor series, Epson ST120. Epson try to answer the people demand with their new product. Epson ST120 has 7.7 x 7.3 x 3 inch size, so simple and compact size.

Epson ST120 has Blu-ray disc record system and powered by Intel Core 2 Duo processor with 1 GB RAM, 80 GB hard drive and graphic processor integration Intel GM45. This PC desktop also support by HDMI output and HD turner digital.
It is good news for gamer and graphic designer. Because Epson ST120 has a good hardware, like explained above, it can run game as well as graphic application. So you can enjoy your hobbies in game or design with simple and compact size PC desktop.
For user who loves to watch film and listen to the music, this PC desktop can play your lovely movies and music. Because it has capability in play multimedia files as well as others PC desktop.
Specification :
- Intel Core 2 Duo processor
- 1 GB Random Access Memory
- 80 GB Hard Drive
- Intel GM45 Graphic Processor
- HDMI and HD turner
- 7.7 x 7.3 x 3 inch size.