The Elegant Notebook from The Brilliant Designer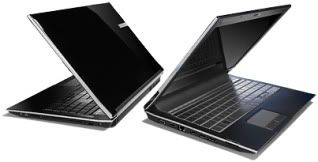 If you are fashionable and like the brand new mode and design product, you must know Gateway ID5807n. The fashinoable and nice design notebook. Gateway ID5807n is the notebook that oriented on design and easy to use.
Gateway is one of the PC brand that well known in America. Gateway build up in 1985. But Acer has taken the Gateway in 2007. So the user can enjoy the service and guarantee at the Acer office around the world. And the brand new notebook from Gateway is Gateway ID5807n
Gateway ID5807n designed by Pinifarina. Who is he? Pinifarina is a designer that usually designing Ferrari, Jaguar and he is designer of Delle Aphi, Juventus' Stadium. Due to his brilliant ability on design, Gateway ID5807n look elegant with the dynamic lines that lighting exclusive and luxurious. You must be falling in love with this notebook, because the solid and beuatiful Nightsky Black cover with chrome accent.
For the movie lover, this notebook give to you high watching quality like watch movie on cinema. Because this elegant notebook support with LCD screen technology with aspect rasion 16 : 9. Also supported with three high technology devices like Dolby Sound Room audio, Nvidia card graphic and HDMI connection. And your music and video collections can be stored easily because the 500 GB hard disk on it.
Gateway ID5807n has the light and sharp screen so your eyes will be comfortable when you were watching movie or typing your tasks. This notebook powered by Wi-Fi draft-N, so you can browse in internet. Besides that, it is also build in Bluetooth and webcam.