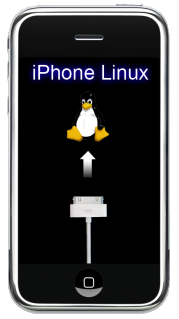 Do you know iPhone? Yes, if you ask every one with this question, they must be answer yes. Like Blackberry, iPhone is the smart cell phone who the most sensational in this early years. And the development of iPhone can not be detached from the aplication developer and people who like to dig up the ability of iPhone which is the cell phone from Apple.
One of the that is the clever people association, called iPhone Dev Team. Just at acertain time, iPhone Dev Team success making iPhone can be boot by Linux operating system. So amazing finding from them.

In the formal pronouncement from iPhone Dev Team, they said that the members of iPhone Dev Team has succeed in the first time to make Linux operating system run in iPhone and in the first generation iPod.
Linux with kernel 2.6 has succeed built in the Apple iPhone platform. Also support with first and second generation iPhone and iPod Touch firtst generation.
Still a lot of driver needed to make this research perfect. Although the work of iPhone Dev Team have not been perfect, but from their research we know that iPhone can run in Linux operating system.
At this time, iPhone Dev Team also trying to make iPhone can run in Google Android operating system. They conscious that to make the Google Android operating system can run in Apple iPhone need the harder research and work. And they hope every body whom have reverse engineer ability want to join with them.
For you who want to try booting Linux from your iPhone, you can find video, download and manual instruction in the internet. But you must have programming ability, because if you failed, your iPhone will be off.