Gaming Notebook Up To 4 GB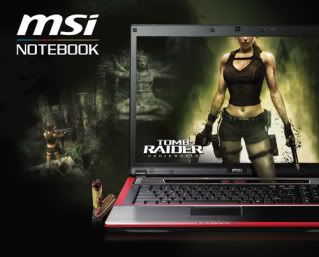 For gaming notebook category, MSI has been popular with their notebook GX series. Now MSI launch their brand new gaming notebook to the gaming notebook lover. MSI GX623 is the name of their brand new gaming notebook. This notebook crowding the notebook gaming series in the global notebook market.
MSI GX623 support with Intel Core 2 Duo processor, so nice processor speed for your game. This gaming notebook also support with Intel PM45 chipset and 512 MB discrete graphic controller Radeon HD4670 Mobility.
MSI GX623 also built with up to 4 GB DDR2 – 800 memory. MSI create one memory slot inside their brand new gaming notebook which has capacity choice from 160 GB till 500 GB. And available choice to using Blu-ray drive optic.
MSI GX623 also has Gigabit LAN connectivity and WiFi 802.11n. For the connector side, this brand new gaming notebook powered by eSATA and HDMI. MSI GX623 has 2,7 Kg weight. MSI GX623 also built with ECO Engine power technology.. This device may MSI GX623 to use power efficiently.
As the gaming notebook, MSI GX623 has the similar keyboard size with the other gaming notebooks. This notebook has keypad button, it make MSI GX623 has 103 buttons on his keyboard. MSI GX623 design in black color and in 15,4 inch screen. This big screen make you feel comfortable and enjoy while playing your favorite game.
Specifications:
· Intel Core 2 Duo processor
· Intel PM45 Chipset
· 512 MB discrete graphic controller Radeon HD4670 Mobility
· Up To 4 GB DDR2 – 800 Memory