The Big Brother Gaming Notebook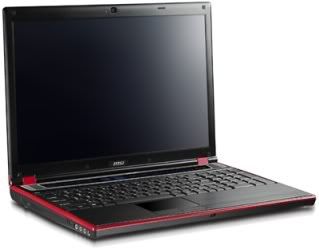 Do you like play game in your notebook? Sure, you know MSI. MSI one of the gaming notebook producers is being popular with all their gaming notebooks. MSI call their gaming notebook with GX series. After succeed with their old GX series, MSI try to reach the other succees with launch their brand new gaming notebook, MSI GX633.
MSI GX633 powered with up to 4 GB DDR2 – 800 memory. Same with his little brother, MSI GX623, MSI GX633 has a hard disk slot with capacity choice from 160 GB till 500 GB. MSI GX633 use AMD Turion X2 Ultra processor with nVIDIA MCP77 chipset and add with 512 MB GeForce GT130M discrete graphic controller. It is different with his little brother that use processor from Intel, like Core 2 Duo.

MSI GX633 also support with ECO Engine Power technology. This technology for more efficient power consumtion. MSI GX633 built with Blu-ray optic drive, Gigabite LAN connection and wireless Wi-Fi 802.11n.
Still same with his little brother, MSI GX633 filled with eSATA and HDMI connector. The weight from this gaming notebook is 2,7 Kg. From the screen size, MSI GX633 has 15,4 inch screen. And use the ordinary keyboard button that filled with keypad button. So MSI GX633 has 103 buttons on his keyboard.
Now you can compare and choose your favorite gaming notebook to give you comfortable situation when play your favorite game.
Specifications:
· AMD Turion X2 Ultra Processor
· nVIDIA MCP77 Chipset
· up to 4 GB DDR2 – 800 Memory
· 160 GB till 500 GB Hard Disk
· 512 MB GeForce GT130M Discrete Graphic Controller