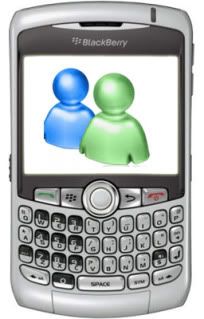 Do you know BlackBerry? BlackBerry is the most popular gadget around the world at this time. Nowadays, we will see every one bring and play Blackberry every where we go, like at Mall, theater, even at school.
One of the favorite application on BlackBerry is BlackBerry Messenger. Yes, like others messenger application, BlackBerry Messenger is application that may you to chat. You can keep in chat with your friend, family or other people. But BlackBerry Messenger that is built in application on it, still poor and minimum in feature and function than the other messenger aplications.

Because of that, RIM is preparing the brand new update for BlackBerry Messenger. This brand new update will add some new features. One of that is you may know the location of your friend or your family (which have BlackBerry too). This application work with assist from GPS coordinat. This new application is good for you who like to know where are your friend and your family take place.
For you who want to know what are the new update for BlackBerry Messenger. There are some new features :
1. Avatar
You can show your identity with avatar. You can get it from the file or from your camera.
2. Integrated with GPS
User can allow you to check where are they take place.
3. Proximity Cencor
This application may user know how long the distance between you and your friend.
4. Home Screen
User may put Messenger contact in the home screen for the easy access.
5. Set Conversation Subject
User can set the title of once conversation. It is easy you to search the old conversation with the title.