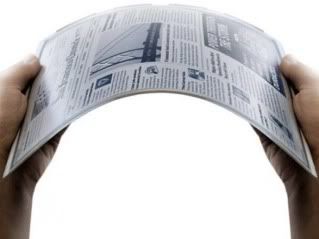 In this beginning of 2010, there are a lot of technology gadget news and rumors circulate. Rumor about Google gadget products, Nexus One, is much bated around. But, side of the frenzy of Google Nexus One rumor, there is fantastic news from high tech gadget development. Skiff Reader which is the largest and thinnest e-book reader present at 2010 International Consumer Electronics Show in Las Vegas, United States this early January.
This Skiff Reader is developed by Skiff, LLC. This e-book reader has 11.5 inch size and 1600 x 1200 pixels resolution, it is compatible for magazine and newspaper content. Touchscreen is other feature that makes this e-book reader cool. How fantastic if the largest and thinnest add by touchscreen feature. It will become coolest e-book ever I saw. And you do not feel hard to hold it for long time because this e-book reader only over one pound.
Skiff corporate had do their best to develop this gadget with more features. They try to get this with joining other Technology corporation to fit out Skiff Reader. These corporations are LG Display and Sprint. LG Display helps improving the display look and Sprint help Skiff make their new e-book reader network capability. Of Course, the launching of Skiff Reader will make new sense in e-reading style.