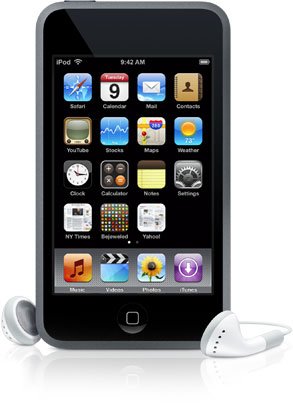 Before installing games on Ipod Touch you, you are required:
1. Have the iTunes software on your computer, to iPod Touch and you can connect your pc.
2. Register your iTunes.
3. Having a connection cable that connects your iPod Touch to your PC.

Then the steps of installing games on iPod touch:
1. If you do not already have the iTunes software, please download from the internet, and then install it. After that, please register your iTunes.
2. (Assuming that you have installed and registered your iTunes). You get into the iTunes store that is in iTunes and do the login.
3. After login you can see there are options on the right hand : free app, free games, and games and applications that are paid.
4. For a free app, and free games just right click where you want, then you download games or applications that you think well, be downloaded directly in your iTunes,
5. Connect your iPod Touch with a PC, then your iPod Touch will appear in iTunes. Then uncheck the list sync only checked songs and videos continue to check list manually manage music and videos. After that, select the menu on the iTunes Store menu and choose Authorize Computer. Then you go back into your iPod Touch devices, and then select the Applications menu in the Applications menu will appear instantly applications or games that you've downloaded, if there is no check list application sync. After you click sync it contained below right. Directly games and embedded applications will be installed in your iTunes into your iPod Touch.